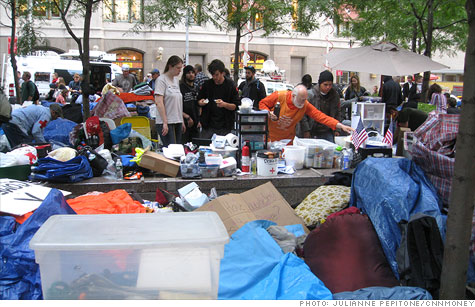 Occupy Wall Street is still going strong after 25 days - CNN
It is very interesting to watch

footage

of the recent 'Occupy Wall Street' movement on CNN website. I have rarely witnessed such peacefulness in a leaderless movement.
'Anarchy', defined in the Oxford English Dictionary, is a situation in a country, an organisation, etc. in which there is no government, order or control. Many anarchists argue that anarchy does not imply the total absence of rules, but rather a society that is based on the spontaneous order of free individuals in autonomous communities. John Carney states, on CNBC, that the

anarchy of 'Occupy Wall Street' is as literal as it is organised

. "There is no one in charge, but there is a lot of organisation... There is a 'general assembly'. On most nights, the working groups give a brief report to the crowds, detailing their accomplishments and plans... It is very organised anarchy".
How can the protestors be so peaceful without any formal objective or agenda?
Although they have different specific concerns, they share the common purpose of calling for democracy, justice, and sustainability. But the most important thing is probably that there is no struggle for political power there. There is a demand for change, but not a fight to overthrow the government. A 'literal anarchy' might, therefore, have an effect.
President Obama speaks during a news conference in the East
Room of the White House (Saul Loeb / AFP/Getty Images) - LA Times
But, again, let's leave Wall Street for the White House. Richard McGregor writes on the Financial Times website that "while not endorsing the protests,

Barack Obama and Joe Biden

have expressed understanding of the movement that has spread rapidly across the country". The President also stressed that people were angry because Wall Street had not been following the rules. A plan for higher taxes on those who earn above $1m would be set, and it would be approved of by the protestors, McGregor states.
President Obama attempted to put forward the American Job Act. On the Facebook page of

Obama's 2012 campaign

, attracting over 23.5 million fans, was posted this quote: "The Senate votes today on the American Jobs Act, which will put our country back to work, keep teachers in classrooms, and rebuild our crumbling roads and bridges". It is similar to what we heard on the CNN report.
I wonder whether I should continue the idea that 'there is no political-seeking there'. Is the anarchy no longer literal? Is the call no longer from Anonymous?
No matter what it is, the people deserve to achieve what they are demanding.